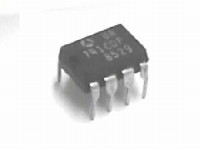 uA 741
Frequency-compensated operational amplifier
Other names for this product: 741, 741A, uA741,
Courtesy/Thanks to: Fairchild Semiconductors
Description: Please observe, this product is *OBSOLETE*

The CA3140 directly replaces industry type 741 in most applications.

A good replacement OpAmp for the uA741 is the lownoise TL071 which is ideal for use in soundgenerating circuits where noise should be held at a minimum.

The uA741 is a high performance monolithic OpAmp constructed on a single silicon chip, using the Fairchild Planar* epitaxial process. It is intended for a wide range of analog applications.
Comments
You need to be logged in to add a comment.
You need to be logged in to edit and add files and urls etc.
Popular tags for this:

You must be logged in to add tags.
You need to be logged in to administer your inventory

No one is selling this product at this time.