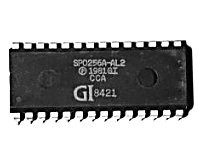 SP0256
Speech processor
Other names for this product: SP0256-AL2,
Courtesy/Thanks to: Archer
Description: The SP0256-AL2 produces all 59 phonemes of the English language plus 5 pauses of different durations. Each of the phoneme's speech patterns are individually addressable, making the SP0256-AL2 capable of saying anything that can be said in the English language. This is the simplest approach to universal speech synthesis and the speech quality makes for a good robot voice.
Comments
You need to be logged in to add a comment.
You need to be logged in to edit and add files and urls etc.
You need to be logged in to administer your inventory

No one is selling this product at this time.