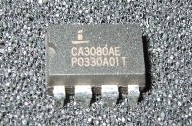 CA3080
2MHz, Operational Transconductance Amplifier (OTA)
Other names for this product: CA 3080, CA3080A, LM3080,
Courtesy/Thanks to: Intersil
Description: Please observe OBSOLETE product!!
The CA3080 and CA3080A types are Gatable-Gain Blocks which utilize the unique operational-transconductanceamplifier (OTA) concept described in Application Note AN6668, "Applications of the CA3080 and CA3080A High- Performance Operational Transconductance Amplifiers".

The CA3080 and CA3080A types have differential input and a single-ended, push-pull, class A output. In addition, these types have an amplifier bias input which may be used either for gating or for linear gain control. These types also have a high output impedance and their transconductance (gM) is directly proportional to the amplifier bias current (IABC).

The CA3080 and CA3080A types are notable for their excellent slew rate (50V/µs), which makes them especially useful for multiplexer and fast unity-gain voltage followers. These types are especially applicable for multiplexer applications because power is consumed only when the devices are in the "ON" channel state.

The CA3080A's characteristics are specifically controlled for applications such as sample-hold, gain-control, multiplexing, etc.




Modern pin for pin replacement is the NTE996
Comments
You need to be logged in to add a comment.
Added 2016-03-05 17:25:02 by BurnettX360
Added 2013-05-22 23:27:36 by jo2030
Is here anyone who would be interested in an ota-joint-venture-project for cloned 3080´s, then give me an email to jo2030_at_gmx.net