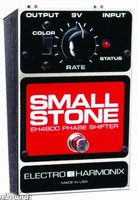 Small Stone Phaser
Vintage Phaser pedal
Other names for this product: Smallstone, EH4000,
Courtesy/Thanks to:
Description: The Smallstone is somewhat unique in using Operational Transconductance Amplifiers (OTA's) for phase shift stages instead of opamps with variable resistors. All of the IC's are house marked EH1048, but can be replaced with CA3094 which is a combination of an OTA equal to the CA3080 and a darlington emitter follower. Later Small Stones used slightly different circuits, but all used the OTA.
Comments
You need to be logged in to add a comment.
You need to be logged in to edit and add files and urls etc.
You need to be logged in to administer your inventory

No one is selling this product at this time.
Electro-Harmonix
from their site:
EH is back, once again putting innovative stompboxes at the feet of musicians th