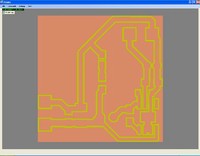 PCBMill Software
PCB prototyping software
Courtesy/Thanks to: CNCdrive.com
Description: PCBMill is a PCB prototyping software.
It can generate isolation milling path from industrial standard Gerber files.
Mill and drill your prototype PCB on your CNC machine in minutes.
The software is Beta version and is freeware at the moment and is supplied "as it is", there is no support for it and we cannot give any warranty for bugless operation.
Please feel free to use this software for any purpose, we hope that you will find it useful.
Comments
You need to be logged in to add a comment.