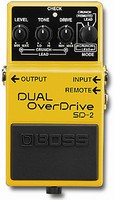 SD-2
Dual Overdrive
Courtesy/Thanks to: Boss
Description: From the Boss Guitar Effects Guide Book vol.14 (1999):
The SD-2 features independent circuits to produce two totally different overdrive effects. In LEAD mode you get a thick, smooth sound. CRUNCH mode gives you a fat, crunchy sound that's tailor-made for riffs and backing parts. You can even independently modify these two tones with the dual-purpose LEVEL, TONE, and DRIVE controls. What's more, the LEAD and CRUNCH modes can be switched with the pedal switch or optional FS-5L.
Comments
You need to be logged in to add a comment.