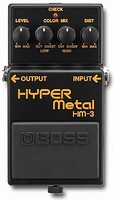 HM-3
Hyper Metal
Courtesy/Thanks to: Boss
Description: Boss Advertisement text (1998):
The HM-3 is designed for greater gain and a more accurate dynamic response to produce a powerful, hard-edged sound with powerful sustain. More like you'd expect from fully overdriven stacked tube amps. There is independent COLOR MIX controls for high and low frequencies and you can create tones ranging from mild and crunchy to heavy and metallic.
Comments
You need to be logged in to add a comment.