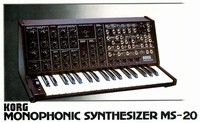 MS20 filter clone
Clone of the MS-20 filter
Courtesy/Thanks to: Gunnar Loeb, for this particular design.
Description: The Swedish SAS-list (Swedish Analog Sympathisers) did a small run of a MS20 filter clone. The result wasnt perfect, and the PCB got mirror-turned and other interesting stuff, but nevertheless a cool sounding filter, based on the filter of the MS20.

PLEASE OBSERVE: that the PCB-picture is mirror-turned, and therefore the TL082 and Transistors has to be mounted "upside-down"... See pictures for this aswell...
Comments
You need to be logged in to add a comment.
You need to be logged in to edit and add files and urls etc.
Popular tags for this:

You must be logged in to add tags.
You need to be logged in to administer your inventory

No one is selling this product at this time.
SAS
SAS is not a company and not a person, its a Mailinglist really. SAS was founded by Erik Grönberg, a