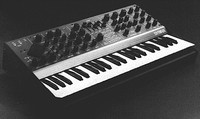 Syrinx
Monophonic Synthesizer
Courtesy/Thanks to: Synton
Description: The Syrinx is a monophonic analog synth. It has no Midi and no presets.


Syrinx capabilities

Audio sources: 2 VCO's, Divider, PRM, noise. (External audio in on last series)

Modulation sources: 2 ADSR's, 2 LFO's, modulation pad, CV in, keyboard (not on last series)
Filters: Three VCF's.


Comments
You need to be logged in to add a comment.