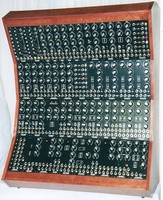 MOTM
Modular Analog Synthesizer
Courtesy/Thanks to: Synthesis Technology
Description: from the site:
The MOTM Analog Modular Synthesizer is a series of studio-quality kits and assembled modules that offer outstanding value. MOTM differs from all of the other modular synthesizers in that both electrical and mechanical design represent our "No Compromise" attitude. Our front panels are made from 1/8" (3.2mm) thick aircraft aluminum, providing the strongest mechanical support available. Our pots are the quietest, longest-lasting AND the most temperature stable possible: Spectrol or Bourns 100% sealed types. We use only Switchcraft jacks with nickel-plated brass hardware for years of trouble-free service.
Yet, the MOTM modules are affordably priced. Both kits and fully assembled & tested modules are offered. New modules are added often: and customer suggestions are most welcome!
MOTM was specifically designed to be compatible with existing synthesizer equipment. A quick look at some important specs:
1 volt-per-octave response for VCOs and filters
Positive-going GATE voltages (+1.5V threshold)
Positive-going triggers
Audio levels of 10V pk-pk (except out of the final mixer)
VCAs respond from 0 to +5 volts
Uses +-15VDC (some modules use internal regulators)
Power supply connector is standard AMP MTA-156 4 position
Comments
You need to be logged in to add a comment.