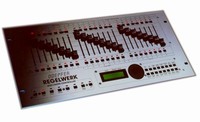 REGELWERK
MIDI Fader Box and Analog/Pattern Sequencer
Courtesy/Thanks to: Doepfer
Description: REGELWERK is a professional tool that is able to generate any MIDI data by means of 24 high quality ALPS faders with 48 related buttons and LEDs (2 buttons and 2 LEDs for each fader).

The fader box features include standard functions like assignment of any MIDI data type to the faders and buttons (e.g. any controller, aftertouch, note on/off, velocity, program change, SysEx) as well as functions like Solo, Mute, Master, Total Recall, Overdup, HookOn. For example you may program the unit as a real-time editor for any other MIDI equipment (including software synthesizers) by assigning the required MIDI events to the faders and buttons.

But REGELWERK is much more than a so-called "MIDI fader box" though it as well carries out what you would expect from such a unit. In addition REGELWERK is suitable - so to speak as a free gift - to generate pattern-based musical structures like rhythmic trigger patterns, analog sequences and other rhythmic structures. The immediate access to important controlling parameters leads to completely new rhythmic and sequencing applications especially for improvisations and live events. It is possible to combine the features of the fader box and the sequencer at the same time (8 faders with fader box features and 16 faders for generating a sequence).
Features:

24 high quality faders (manufacturer: ALPS), 60 mm travel
72 buttons, 56 LEDs
2-line LC-display
rotary encoder for data input
grey 19-inch rack-mount unit 5HU (suitable for rack mount or as desktop case)
dimensions: about 485 x 221 x 90 mm
weight: about 3 kg
2 separate MIDI Inputs
2 separate MIDI Outputs
5 pin SYNC socket (Roland compatible)
8 CV outputs (3.5 mm miniature jack sockets), function only in sequencer mode, range: 0...+5V, 1V/Octave characteristics
8 Gate outputs (3.5 mm miniature jack sockets), function only in sequencer mode
gate voltage: 0/+5V
normal logic (i.e. on = +5V, off = 0V)
Storage of all data via MIDI SysEx messages
external AC adapter for power supply (AC adapter for 230V AC and European type of mains connector is included, adapters for other voltages or other mains connector types must be purchased by the customer in his country, 9...12V/500mA DC required)
price: Euro 659.00 (i.e. about US$ 660.00) incl. power supply 230V version für European type of mains plug
The exact price in US$ depends upon the exchange rate between Euro and US$ at the payment day.
Comments
You need to be logged in to add a comment.