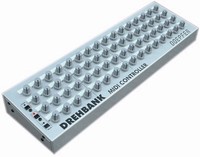 DREHBANK
Midi controller
Courtesy/Thanks to: Doepfer
Description: Drehbank features:

64 rotary controls (rotary potentiometers)
Configuration with the free editor program for PC
2 user defined setups (banks) available within the device.
additionally 8 fixed factory setups
Snapshot function (= send off all 64 control positions)
8 CV inputs for external control voltages 0...+5V (e.g. from A-100 modules) or foot controller, normalized 1/4" jack sockets at the rear panel, each external input in use switches off one of the 8 rotary controls at the right side of the front panel.
MIDI out
MIDI In with merging feature, i.e. incoming MIDI events are merged with the MIDI data generated by Drehbank.
3 control buttons with LEDs
White label (21x8 mm) above each knob for manual inscription or for sticking on self-adhesive labels
19" support for rack mounting and 1 HU 19" blind panel
external AC adapter for power supply
price: Euro 399.00 (i.e. about US$ 400.00)
Comments
You need to be logged in to add a comment.
Added 2009-07-13 13:59:22 by WillBiggs
I'm not sure If this is for sale here??? IF this is about a Drehbank that is for sale please contact me at: pantherish@hotmail.com thanks