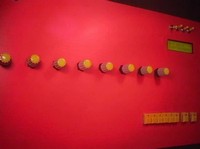 MIDIbox Plus
MIDI Controller
Courtesy/Thanks to: Thorsten Klose
Description: The MIDIbox Plus is a DIY MIDI knob box, featuring the following:



8 or 16 Pots, 8 Buttons
16 free customable Banks
sends CC/Note/Aftertouch/PitchBender/ProgramChange
Min and Max values, scaling over the whole pot range
MIDI Learn Function
Setups exchangable via SysEx
Menu Buttons
Snapshot Button with Save/Recall function
LC-Display, different Display Modes
Normal, Snap, Relative and Parallax Mode
MIDI-Merger
Optional RS232 Interface

Its easy to build the Box, you can do it by yourself without much effort, if you know the right end of the soldering iron. To burn the software into the PIC, you need the PICplus programmer kit or one of the minimal programmer, which are available at the internet.
Comments
You need to be logged in to add a comment.