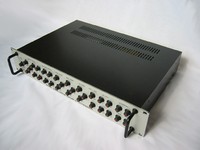 9090
Analogue Drum Synthesizer
Courtesy/Thanks to: Trevor Page
Description: From Trevors homepage:
The 9090 is an analogue drum machine based upon the legendary Roland TR909 Rhythm Composer. The project incorporates all drum circuits (bass and snare drums, toms, hand clap, rim shot, cymbals and hi hats) together with necessary noise, power supply and MIDI interface circuits. It is designed primarily to be a rack-mounted module. Hence the complete project is built across two separate printed circuit boards, designed to fit within a 2U height 19" rack enclosure.
The design of individual voice circuits used within the clone remain faithful to those of the original machine. Most semiconductors have been substituted for modern equivalents, the majority of devices being easily available. A small number of modifications have been included added to further enhance the 9090's sonic capabilities, including a very effective bass drum tune depth control, bass drum distortion, and hi-hat tune.
The on-board MIDI interface allows the 9090 to integrate nicely within an existing MIDI studio setup. Individual drum sounds are mapped to specific keys and the drums are sensitive to note velocity. A 24PPQN 'Sync' output is provided so that you may synchronise older drum machines or synthesisers (e.g. TB303) to MIDI timing information via the 9090. Channel selection is achieved via a 'MIDI learn' push switch, which also doubles as a drum sustain mode switch, enabling note-off messages to silence the drum sound. LED indicators display MIDI Activity and Power status.
At present the prototype 9090 does not incorporate a sequencer of any kind, although a sequencer PCB for this project is likely to be a future addition.
A set of printed circuit boards to build the 9090 is now available. Please refer to the PCB ordering & pricing information below.
Comments
You need to be logged in to add a comment.