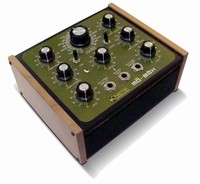 MOT BOX
Multi Oscillator Twitch Box
Courtesy/Thanks to: Kinetik Laboratories
Description: Mot-Box is a sound generator built for musicians and sound designers. It's capable to produce sounds from drones to helter-skelter noises.
It has four audio oscillators, two lfos and two 1/4" jack inputs, available to connect external analog gear.
All in a rugged box, with cherry wood side plates.

Comments
You need to be logged in to add a comment.