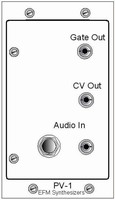 PV-1
Pitch to Voltage Converter
Courtesy/Thanks to: EFM
Description: Features Excellent tracking,
+/-12V or +/-15V

Based on the "Etherwave Pitch to Voltage
Converter" by Bob Moog/Big Briar.

A pitch to voltage converter takes a
frequency input and converts it to a
voltage output. There are several forms
of this
circuit, both digital and analog. Most
of these can be grouped into two basic
classes. The Tachometer circuit, and the
Ramp Sample/Hold.
Comments
You need to be logged in to add a comment.