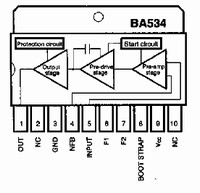 BA534
9V/2.3W single-channel power amplifier
Courtesy/Thanks to: Rohm
Description: The BA534 is a monolithic power
amplifier designed for portable cassette
players and radios. With a 9V power
supply, it has a rated output of 2.3W
into a 4Ohm load (THD=10%). It has high
ripple rejection, and the "pop" noise
when power is applied has been
suppressed to an absolute minimum.
Comments
You need to be logged in to add a comment.