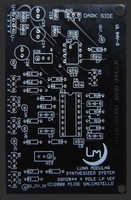 Dark Side SSM2044 VCF/VCO Luna Modular
Dark Side SSM2044 VCF VCO Luna Modular Synthesizer System
Courtesy/Thanks to: Somatic Circuits
Description: New VCF PCB Kit from Somatic Circuits - "Dark Side" SSM2044 24db 4Pole VCF / VCO PCB Kit, Complete with SSM2044 IC. A special kit which is easy to build and very satisfying , a must for any modular system. Dark Side is the LowPass VCF and Sine VCO for the Luna Modular Synthesizer System by Somatic Circuits.
When in oscillation the filter produces a stable Sine wave which can be used as a VCO.
Comments
You need to be logged in to add a comment.