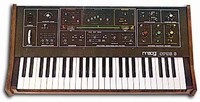 Opus 3
Preset Analog synthesizer
Courtesy/Thanks to:
Description: The Moog Opus 3 is a 6note polyphonic
synthesizer, with 3 preset oscillation
settings, a VCF and an LFO. The
sounds are Strings, Organ and Brass.
The stringsection has 2 regulators
to set the character of the sound, the
Organ section has 5 drawbars, for the
different frequencies. The brass has a
preset setting, but can be set to filter,
where you route the brass signal
through a very nice VCF.

Comments
You need to be logged in to add a comment.