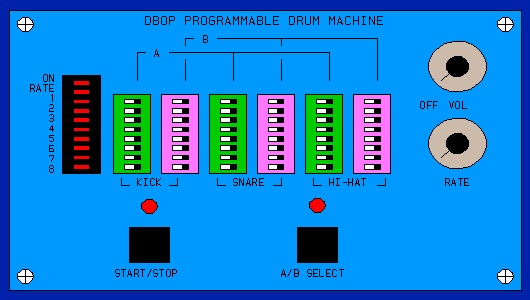 DBop
Programmable Drum Machine
Courtesy/Thanks to: EFM
Description:
This is really DBopII. I built the first one after I destroyed my Korg Minipop in 1985. At the time it was the only way I had to get a beat on my 4 track. When it died I was frantic to get a beat somehow and I remembered a series of articles in my collection of 1979 Radio Electronics by James J. Barbarello on the PerSyn percussion synthesizer.
Initial experiments were promising but I hated the sound of his tone generators. A friend had a Radio Shack beat-box that I thought sounded great so after a little reverse engineering I built generators that worked well enough to start construction. The first version had only kick and snare but four programs instead of two. It was a real mistake not to include a hi-hat and now that analog beat boxes are in again I thought it would be cool to do a updated version.
The generators can be compared in sound to the 808. I have always loved the sounds but they fell out of favor when sample based machines became cheap enough to own. Now I use my sampler to cop riffs from this thing. Funny isn't it?
The concept here was a programmable beat-box to create analog riffs with. I wanted it small, battery operated, cheap and easily programmed. There are a lot of drawbacks to the way this was designed formost is probibly eight beat resolution. But is sounds and works really well.
/Tom G
Comments
You need to be logged in to add a comment.