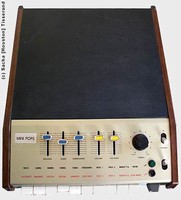 Minipops Model 7
Analog Drummachine
Courtesy/Thanks to: Korg
Description:
Text below by "jschurer":
Nice trick with it is that you can press 2 rythm selection buttons at once wich is a flaw in the design but who cares JMJ made use of that and he scored a world wide hit with it (Oxygene 4). Both Model 7 and model 120 are latin rythm based analog drum machines only the clocking is done with IC's. The model 120 sounds like the model 7 but slightly different and has ofcource some different rythms.

Comments
You need to be logged in to add a comment.