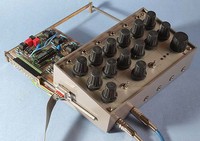 Analog Modules Of Reusable Engineering
AMORE
Courtesy/Thanks to: Jörgen Bergfors
Description: The following text by Jörgen Bergfors about his AMORE concept:
I have realized that some of my earlier modules (the Complex VCO comes to mind) have been too complicated for most hobbyists. And even for myself, these multi-board modules are difficult to maintain and troubleshoot. They are also somewhat failure-prone, as internal wiring cables can break at their solder joints. These are just a few reasons why I have come up with a brand new concept for building synth circuits. I call my new concept Analog Modules Of Reusable Engineering ,AMORE. Further advantages of the system can be read about on Jörgen site. Where modules for the AMORE is presented as well as other modules for his Bergfotron modular synthesizer.
Comments
You need to be logged in to add a comment.