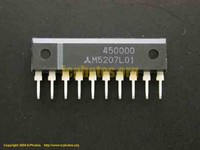 M5207L
Linear Control Dual VCA IC
Other names for this product: M5207L01,
Courtesy/Thanks to: Mitsubishi
Description: Mitsubishi sound processor IC

The M5207L is a variable gm-type VCA (Voltage Control Amplifier) IC designed for linear controlled electronic volume control. The IC offers capability of controlling each channel independently.
Its applications include radio cassette tape recorders, car audio systems, and Hi-Fi VCR.
Comments
You need to be logged in to add a comment.