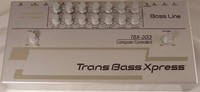 TBX-303
TB-303 clone Bassline / Trans Bass Xpress
Courtesy/Thanks to: Analogue Solutions
Description: The TBX is a bass machine that can play a bass line via a MIDI device.


We have tried to accurately duplicate the analogue voice circuitry of the TB303, using the same discrete components where possible.

We have also tried to duplicate the look where possible, though high manufacturing costs have prevented us having an identical case and knobs.

Note; the sequencer has not been re-created. We have not duplicated the sequencer - this is a MIDI only device. I know that won't please everyone, so we apologies here to those.


KEY FEATURES OF TBX-303


Pure analogue voice circuitry.

Accurate TB303 circuitry clone.

Physically the same size and layout.

Extra tone controls and circuits for more sound variety e.g. LFO, CrossMod.

Rugged steel construction.

MIDI In for software sequencer control.

Comments
You need to be logged in to add a comment.