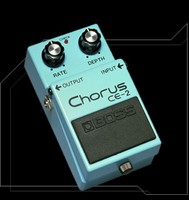 CE-2
Chorus
Courtesy/Thanks to: Boss
Description: The following description is taken almost in full from www.bossarea.com
The CE-2 was the first compact pedal chorus from Boss. The CE-2 builds on the legacy of the CE-1 but isn't identical. The middle region is boosted in the CE-2 compared to the CE-1. According to the design engineers this may be because the CE-1 had a lower input impedance.

Roland says that they stopped marketing the CE-2 November 1982. The pedal was however still produced and sold at least out 1990. The label changed from black to green 1984. The CE-2 was produced in Japan up until 1988 when production moved to Taiwan. The CE-2s circuit changed very little over its more than 10 years in production.

Version differences
-The CE-2 exists in both silver screw and black screw versions.
-The font used on the "Chorus" label is wider on some versions. This results in the C in CE-2 to be located under the r in Chorus on -the earliest models while it later ended up under the u.
-The circuit has gone through some minor changes but nothing significant. All versions of the CE-2 are designed around the MN3007 BBD using MN3101 clock driver.
Comments
You need to be logged in to add a comment.