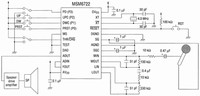 MSM6722
Pitch Control IC for The Speech Signal
Courtesy/Thanks to: OKI Semiconductor
Description: The MSM6722 converts in real-time the pitch of the speech signal in a range of one octave upward
or downward.
Two pitch control methods can be selected. One is to change the pitch in 17 steps by two switch
inputs, and the other is to select one of 16 steps by four binary input lines.
Since a microphone preamplifier and a low-pass filter are built in, the pitch conversion set can
easily be configured by connecting a microphone, amplifier, and speaker in the peripheral
circuit. The MSM6722 is functionally compared to the MSM6322, as described below.
Comments
You need to be logged in to add a comment.