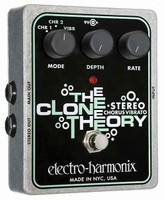 Clone theory
Chorus / Vibrato stomp box
Courtesy/Thanks to: Electro Harmonix
Description: This text from guitargeek.com:
Electro-Harmonix always had a way of taking sound effects to the absolute limits. The maximum setting of most chorus pedals are where the Clone Theory starts. The Chorus and Vibrato setting are very potent and will completely consume your sound when stomped. Most players younger players discovered Electro Harmonix?s modulation pedals in the wake of Nirvana. Capturing Kurt?s unmistakable blur of chorused leads and slurred noise bursts is a snap with the Clone Theory. While there are other flavors of chorus on the market, the Clone Theory sounds the most liquid and drips with submerged bubbliness. The Vibrato section is a wonderful take on the wavering Magnatone sound of the late fifties and early sixties and sounds stunning. Later models of the Clone added a flanger setting which comes off as pretty lackluster compared to the company?s dedicated Electric Mistress unit.

Comments
You need to be logged in to add a comment.
Added 2011-12-21 20:50:07 by pinkjimiphoton
don't waste your time, this pedal is absolutely NOTHING like the original, sounds like shit, and has more noise in the background than two fuzzfaces mating, dimed. total piece of garbage. i contacted eh before ordering to see if it was the same circuit as the original, and tho they claim it was the chorus/vibe version, it sounds absolutely nothing like the real one. this pedal sux. period. look elsewhere. if ya gotta have one, fire up the soldering iron, and head here: http://sites.google.com/site/electroconducive/ehxclonetheory