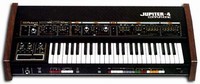 Jupiter 4
Compuphonic
Other names for this product: JP-4, JP4,
Courtesy/Thanks to:
Description: * The JUPITER-4 is a 4-voice polyphonic synthesizer equipped with four independent synthesizer modules. Ideal for live performances, this amazing creation is with a manual control, with an authentic COMPU-MEMORY that stores eight different timbres as well as the ten pre-set sounds. The two channel output with its stereo effect and the external control mechanism make possible the fascinating pursuit of keyboard dreams.

Comments
You need to be logged in to add a comment.
Added 2008-08-13 05:41:37 by emisadis
ehy i can't download the jupiter manual!...damnt...how ever is a great instrument.....i don't want to sell it.....XD