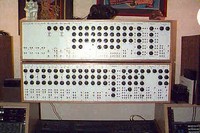 Digisound 80
Modular Synthesizer
Courtesy/Thanks to: Charles Blakey
Description: The Digisound 80 Modular Synthesizer was a (largely) kit-built synthesizer designed, primarily, by Charles Blakey who ran a small family-owned company called Digisound Ltd near Blackpool in northern England. Many of the early modules appeared as construction articles in two British electronics magazines - Electronics Today International (ETI) and Electronics & Music Maker (E&MM) in the early to mid 1980s.

The Project 80 series - a number of whose modules were based on the CEM (Curtis Electro Music Specialities) range of ICs - was not, however, his first collection of synthesizer modules. He had, previously, produced an early series (the Digisound 20000 series) based around the SSM (Solid State Microtechnology) range of ICs.

Comments
You need to be logged in to add a comment.