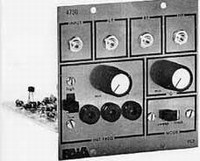 4730
VCF Multi-Modal Voltage Controlled Filter
Courtesy/Thanks to: Paia
Description: The biggest single weak point in the 2720 series modules was the filters. The 2720-3L and -3B weren't bad for the price but we certainly couldn't have sold them for any more than we did. Now we have the 4730 Multi-Modal Bi-Qaud (transfer function quadratic in both numerator and denominator) Voltage Controlled Filter. Like the 4720 VCO, this unit is high in performance and low in cost.

1976 catalog price will be $37.95 but on pre-release orders we are offering a special price of $32.95. Offer expires on anticipated first shipping date of December 1, 1975.

Comments
You need to be logged in to add a comment.